4 Tips for choosing a Support Coordinator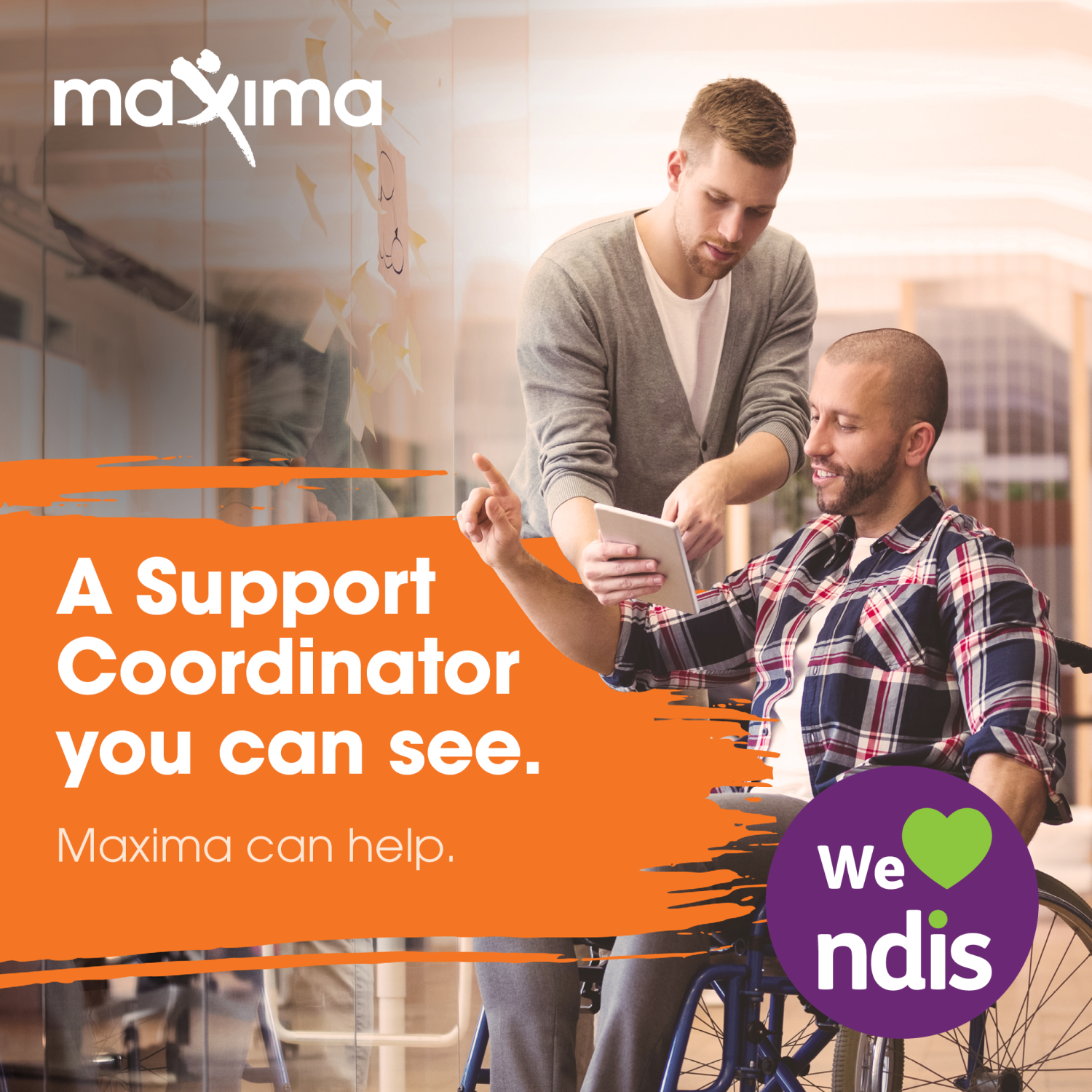 While you might have a tailored NDIS plan to give you the services you need to manage your disability and live well, understanding how to get the most out of your plan and the rules around it can be a challenge.
The NDIS aims to provide support packages tailored to participants' individual needs. No two plans are the same, so it is important to understand what your plan is designed to do. This is where Maxima and a Support Coordinator come in.
Here is Maxima's top 4 tips for choosing a Support Coordinator.
#1 – Your Support Coordinator understands you and your plan, and stays in contact regularly
Having an actively engaged Support Coordinator who can help you understand your plan and how to find the best service providers in your area is invaluable.
Support Coordinators are meant to help participants to make sense of their plan and the rules around the service planning, including the timelines associated with accessing services.
Support Coordination Manager Eden Dempsey says it's important to find Support Coordinators who are committed to helping customers navigate the complexities of the NDIS system and get the most from their plan.
"Our Support Coordinators will not only take the time to understand you but use that knowledge to connect you to NDIS supports, mainstream, community, and informal supports such as family and friends in an effort to maximise your NDIS funding ."
They also help to ensure that you are using all your funding effectively before the plan expires, she says.
A good Support Coordinator checks in regularly – at least once a month to see that your plan is working for you although they also may be able to help some people work towards independent management of your plan.
#2 – Your Support Coordinator gives you options if you are not happy with their service
"People often don't realise the importance of having good, active support coordination. They may stick with a Support Coordinator who is not actively engaging with them because they think it is easier," explains Eden.
"It is very straightforward to swap Support Coordinators – nothing is locked in – and Maxima is able to help customers with the transition if they would like to work with someone else."
Your Support Coordinator should make the transition easy, and endeavour to take any stress and administrative burden away from you and your family.
#3 – Your Support Coordinator is a community expert
When working with your Support Coordinator, you should expect to get good quality community knowledge around NDIS providers, mainstream and community groups that benefit your unique goals, plan and personality.
With Support Coordinators located around the country, Maxima takes community connections seriously to provide the best local knowledge about NDIS services in the area.
#4 – Your Support Coordinator gives you full choice and control
At the very beginning, Maxima works with each participant to determine their needs and the Support Coordinator they would prefer to engage with. It's all about choice and control, explains Eden.
"This process should also involve finding out how you want to communicate, how often and what information is most important to you.
For the Maxima team, this means providing options for face-to-face service and remote Support Coordination via technology. This might be for a personal preference or for people who live in a rural and remote location."
Finding a Support Coordinator that works best for you is worth it. Use these 4 tips to help you assess the type of support coordination service you want, and get the most out of your plan. Maxima has multiple Support Coordinators in each state, ready to begin working with participants immediately.
To find out more about Maxima's Support Coordination services, contact 1300 629 462 or request a call back by filling out an enquiry form.